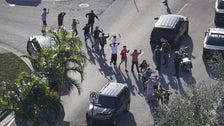 At least 15 people are reportedly dead after a shooter opened fire in a South Florida high school on Wednesday afternoon.

Police have identified the suspect as Nicolas Cruz.

The crime scene is "still active," according to police.
A suspect is in custody following a shooting at a South Florida high school on Wednesday in which at least 15 people were killed, officials told ABC News. CNN reported the number of victims was at least 16.
The suspect has been identified as Nicolas Cruz, The Associated Press reported, confirming the name students previously cited to local media.
The Broward County Sheriff's Department confirmed the suspect's arrest roughly two hours after Marjory Stoneman Douglas High School in Parkland, a suburban community about 15 miles northwest of Fort Lauderdale, was placed on lockdown.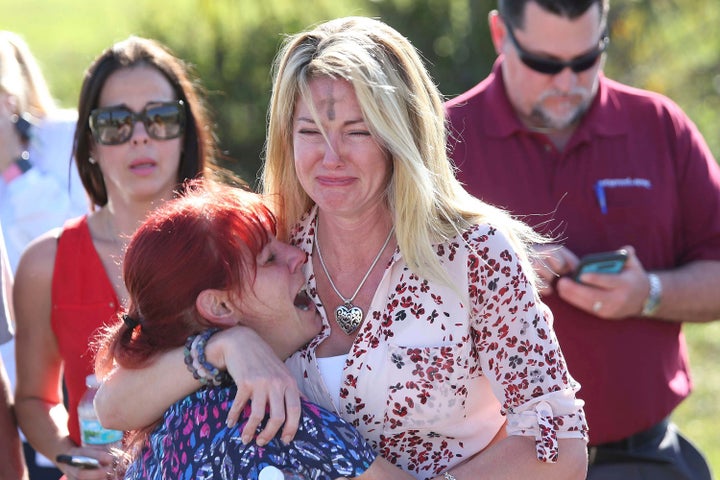 At a press conference, Sheriff Scott Israel described the suspect as a former student around 18 years of age who was taken into custody without incident.
"It is a day that you pray every day you get up that you never have to see. It is in front of us," Broward County Public School Superintendent Robert Runcie told local station WSVN 7 News.
Video taken off campus showed authorities making an arrest just before 4 p.m. The sheriff's department said the scene remains active. 
Coral Springs Police had earlier tweeted that teachers and students should barricade themselves inside "until police reach you."
One unidentified student, speaking to local station WSVN, said he knows the suspect and that the young man had shown him photos of a gun collection he owned.
"It surprises me that this is going on today but it doesn't shock me that it was him," the student said. "He's been a troubled kid and he's always had a certain amount of issues going on."
"We were told last year that he wasn't allowed on campus with a backpack on him," said Gard, adding that the former student had been in his class last year. "There were problems with him last year threatening students, and I guess he was asked to leave campus."
Madison Sheib, a 15-year-old sophomore, was working on a study sheet in her math class when she heard what she first thought were chairs being shuffled on the floor directly above her. Students soon realized they were actually gunshots.
We just kept hearing gunshots and screaming."
Madison Sheib, 15
"We ran into a corner and turned off all the lights," Sheib told HuffPost. "We just kept hearing gunshots and screaming."
Sheib said that after the first round of gunshots went off, someone pulled the fire alarm. Students ― including herself ― attempted to stay calm while police arrived. Eventually, an officer smashed the door window and ushered students out of the building.
Sheib credits her math teacher, Zipora Lazarus, with keeping students calm.
"[Lazarus] was very, very good with handling people," Sheib said. "I started bawling when police broke finally in, and she was very nurturing. I've never seen that side of her because she's just my math teacher, but this brought out the best of everyone."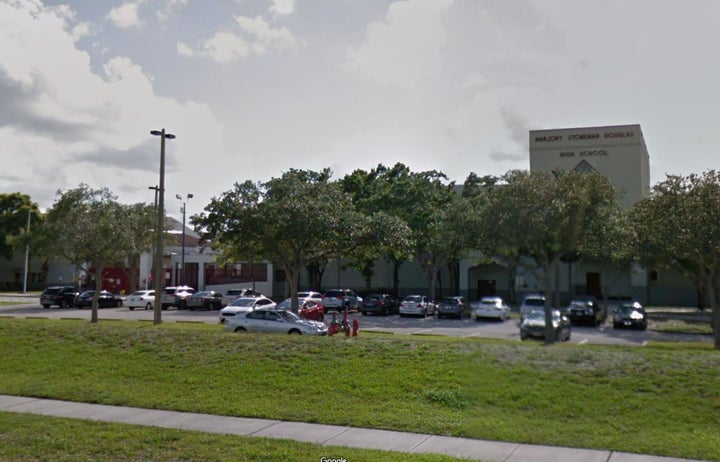 Sheib's brother, 19-year-old John Miceli, was meanwhile frantically texting his sister to make sure she was OK.
"Madi please be okay," he wrote in a text provided to HuffPost. "I love you."
A wave of relief washed over him when she finally responded with "I love you too."
Miceli, a journalism student at the University of Central Florida, told HuffPost he was on his way back to Parkland to be with his sister.
Another unidentified student, speaking to WSVN, also described people being evacuated after hearing a fire alarm go off. He added that he heard gunfire but didn't think it was real.
"I didn't think that it was actual gunfire. I thought that it was just kids popping balloons because it's Valentine's Day," he said.
A female student, speaking to CBS Miami, said her drama teacher instructed them to hide in a closet after they heard gunshots. As many as 40 students were hiding in the closet, crying and without information about the shooter, the news outlet reported. 
Many parents had gathered near the school, hoping to receive news about their children, Daily Beast reporter James LaPorta reported from the scene. Some of them formed prayer circles, supporting one another as they were waiting.
Parkland Mayor Christine Hunschofsky told MSNBC that officials were working to secure the building.
"As you can imagine, our first responders are extremely busy doing their job now, so we have received very little firsthand information and have tried to stay back and allow them to their jobs," Hunschofsky said.
"A tragedy can happen anywhere, anytime," she added.
Superintendent Runcie told reporters that more needs to be done to prevent such tragedies.
"We cannot live in a world that's built on fear," he said. "We have to do what we can to make sure that we provide the greatest safety measures we can for our kids."
Runcie also stressed the need to better treat and address mental health issues across the country. He added that he was speaking generally and didn't know if the suspect in this case has mental health issues, but said "no sane person is going to go and commit such an atrocity."
"Mental health issues in this country are growing and they're a big challenge and … need to be addressed within our school systems as well as the broader society to make sure these tragedies don't continue," Runcie said.
The school employs a full-time police officer, according to online records.
The number of school police officers increased sharply after the 1999 shooting at Columbine High School in Colorado. The officers are in part meant to help stop school shootings.
President Donald Trump has offered condolences to the families of the victims on Twitter, adding: "No child, teacher or anyone else should ever feel unsafe in an American school." 
Florida Gov. Rick Scott has also spoken out about the tragedy, posting on Twitter: "My thoughts and prayers are with the students, their families and the entire community. We will continue to receive briefings from law enforcement and issue updates."
This is a developing story. Please check back for updates.
Sara Boboltz, Ryan Grenoble and Doha Madani contributed reporting.
PHOTO GALLERY
Marjory Stoneman Douglas High Shooting