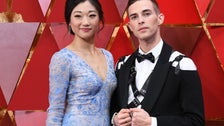 Adam Rippon knows how to get noticed ― on the ice and on the red carpet.
On Monday, Rippon made it clear he's his own fashion champion ― and doesn't need the approval of judges. "I felt cool AF," he wrote on Twitter.
I think fashion is all about self expression and I chose to wear what I wore on the red carpet because I felt cool AF. Everyone should take risks, be bold, and not give a 💩. It's LOTS of fun. Huge thanks to my team for dressing me and make me feel like a sexy MF. pic.twitter.com/gimDFyJPYd

— Adam Rippon (@Adaripp) March 6, 2018
Rippon, the first openly gay American athlete to compete at the games, earned a bronze medal in the team competition in Pyeongchang, South Korea.