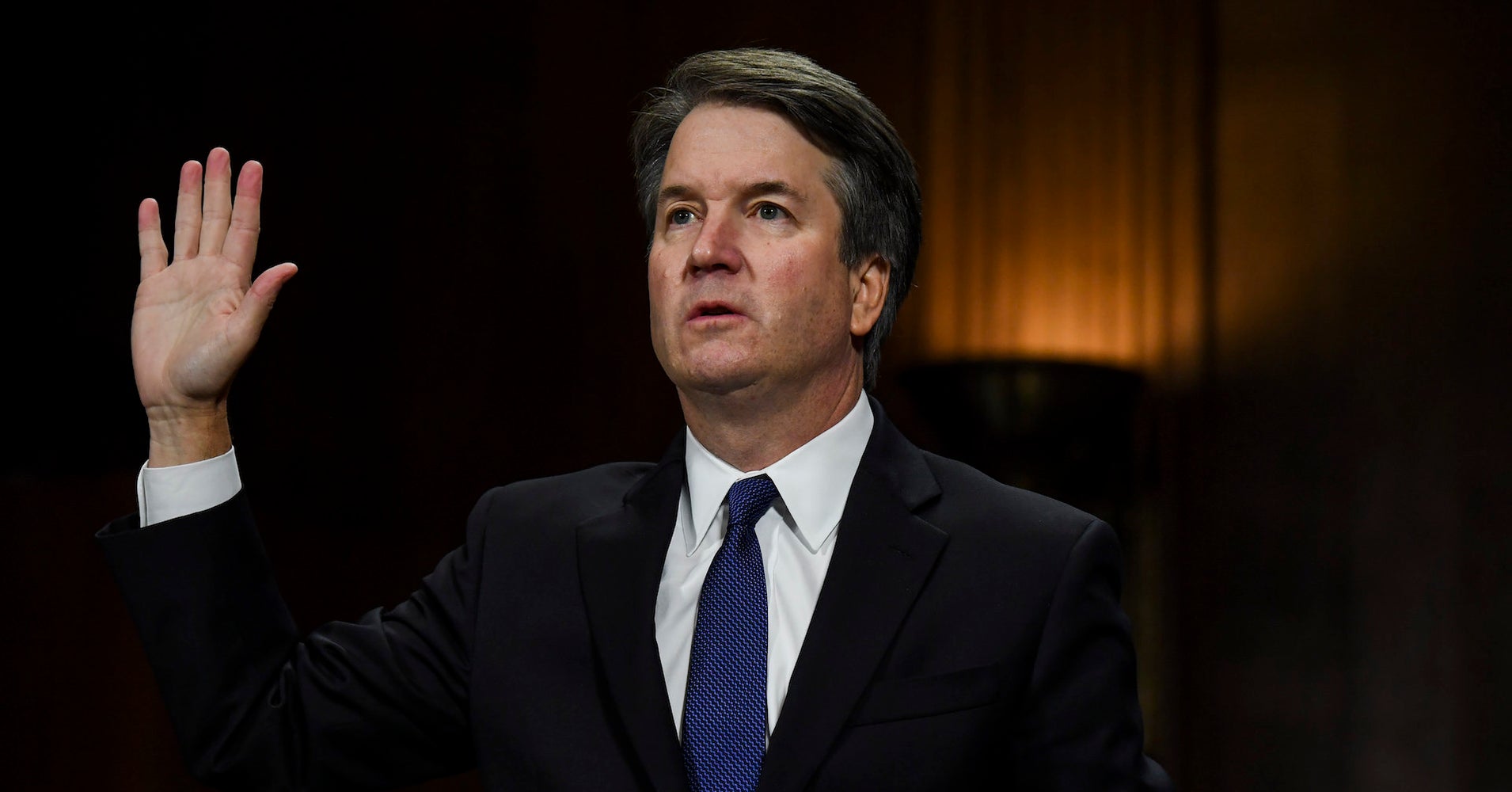 The Senate Judiciary Committee on Friday voted to advance the Supreme Court nomination of Brett Kavanaugh, one day after testimony from Kavanaugh and Christine Blasey Ford, who has accused him of sexually assaulting her when they were in high school.
The full Senate could vote as soon as Saturday to proceed with Kavanaugh's nomination, and a final vote may come next week. It was unclear, however, whether that timeline would hold. Sen. Jeff Flake (R-Ariz.) sought a one-week delay in the full Senate's vote for an FBI investigation into sexual assault claims that have been made against Kavanaugh. Senate Leader Mitch McConnell (R-Ky.) determines the vote schedule.
Flake's demand came after a dramatic series of events, culminating in talks between Flake and Democrats in a room adjacent to the committee hearing room, creating much confusion and speculation ahead of the committee's scheduled 1:30 p.m. vote.
In the end, Flake voted with other Republicans in the 11-10 party-line vote to advance Kavanaugh's nomination without any assurances that the FBI investigation would happen.
President Donald Trump, who would have to ask the FBI to look into the allegations against his nominee, said he'd leave the matter to Senate leaders. Moments after the Judiciary Committee vote, Trump repeated his support for Kavanaugh, but called Blasey "a very credible witness."
As Flake huddled with Democratic senators, including his friend Sen. Chris Coons (D-Del.), it seemed that no one ― not even committee Chairman Chuck Grassley (R-Iowa) ― knew what Flake was up to.
"I can't even. I don't know. I don't know how to react to that," Sen. Kamala Harris (D-Calif.) said following the vote.
Sen. Dianne Feinstein (D-Calif.) the ranking Democrat on the committee, refused to reveal details of her discussions with Flake, saying, "We were just exchanging information."
Sen. Lisa Murkowski (R-Alaska), a key swing vote on Kavanaugh's nomination, told reporters later that she supports Flake's proposal for a delay and FBI investigation.
Sen. Amy Klobuchar (D-Minn.) told reporters that there was no agreement between Flake and Democratic senators because, frankly, Democrats didn't have a lot of leverage.
"There's no agreement with us. We're already voting no!" Klobuchar said, adding it's now up to Flake and other undecided Republicans to work with the White House on getting an FBI investigation.
Asked by reporters about a possible FBI investigation, Grassley said: "I'd like to be able to answer those questions, but I have no information on that."
Committee member Sen. John Kennedy (R-La.) told reporters that he was immediately going to McConnell's office, and said that he did not understand the deal reached by Flake.
"There's a difference of opinion as to what it means," he said.
The Judiciary Committee vote to advance the nomination to the full Senate seemed like a foregone conclusion, with Thursday's testimony from Kavanaugh and Blasey appearing to have made little difference in the minds of senators. Judiciary Committee Republicans eagerly defended Kavanaugh during his defiant testimony, and accused Democrats of politicizing his nomination. Republicans came away from Blasey's testimony saying that she was credible, yet continued to claim her memory may have been faulty.
Friday's vote followed a contentious morning, with several Democratic members of the committee walking out in protest of the GOP push to advance Kavanaugh's confirmation.
Harris and Sen. Cory Booker (D-N.J.) also refused to vote on a motion setting the vote time for Friday afternoon, with Sen. Amy Klobuchar (D-Minn.) explaining that "they are not answering because this is so unfair."
Sen. Mazie Hirono (D-Hawaii) called it "a railroad job."
Kavanaugh's victory in the committee was assured on Friday morning, when Flake — who had previously said "obviously, if you believe the charges are true, then you vote no" — announced that he would vote in favor of Kavanaugh's confirmation.
"Look at me and tell me that it doesn't matter what happened to me, that you will let people like that go into the highest court of the land," the woman said tearfully, while Flake looked down at the floor.
Blasey calmly testified before the committee on Thursday, questioned by sex crimes prosecutor Rachel Mitchell, who was selected by GOP leaders because of the poor optics of showing the all-male Republican committee membership. 
Later in the day, the American Bar Association, whose "well-qualified" rating of Kavanaugh was frequently touted by his supporters, called on Senate leaders to delay the vote and open an FBI investigation into sexual misconduct allegations raised by Blasey and two other women, which the Republicans and the Justice Department have refused to do.
White House officials on Friday morning blamed Democrats for the spectacle. Press secretary Sarah Huckabee Sanders accused Democrats of "exploiting" Blasey "for their own political purposes," and said they owe her an apology.
Arthur Delaney contributed reporting.
This is a developing story. Please check back for updates.