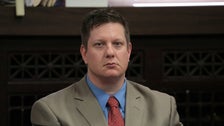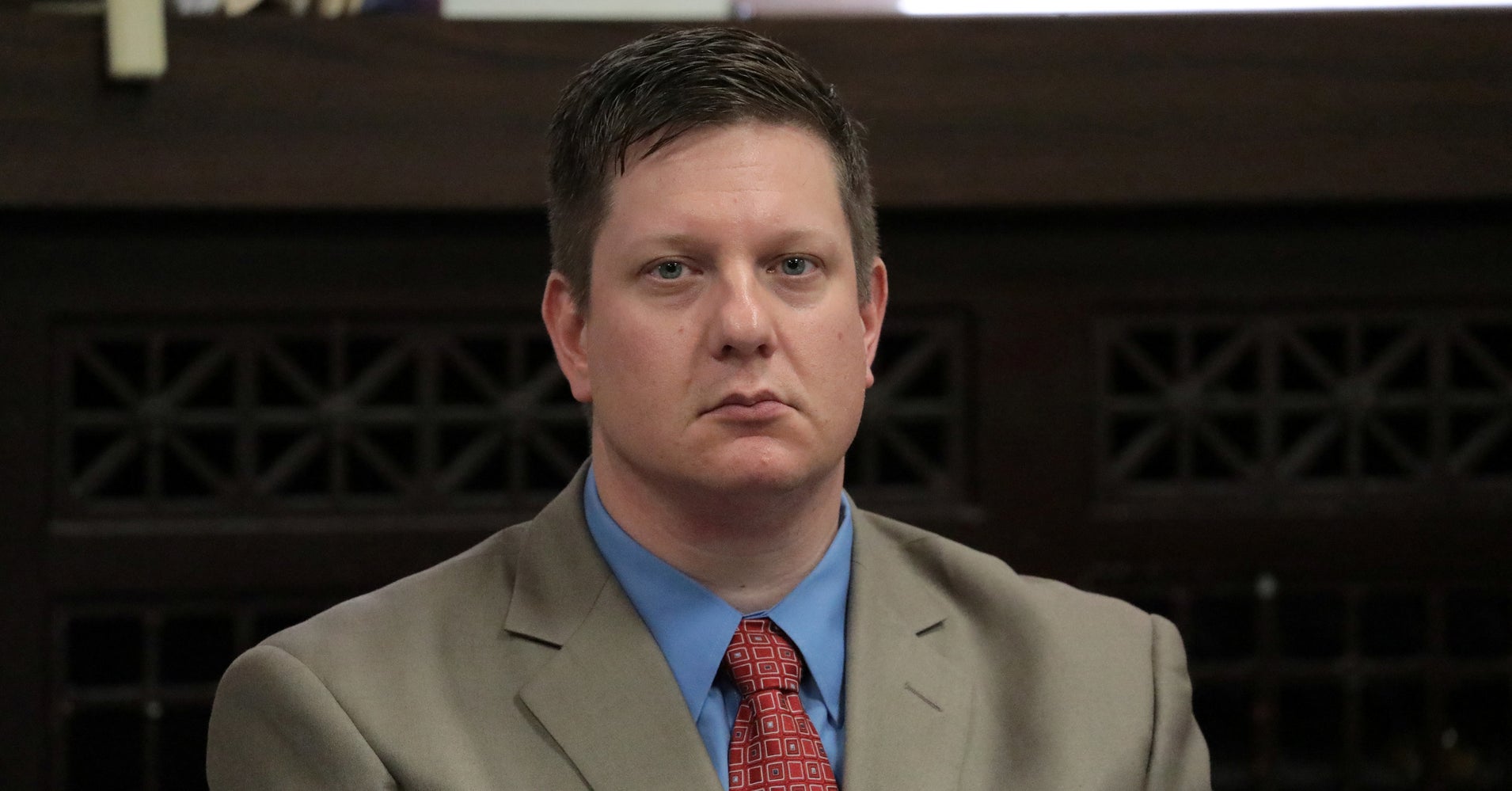 Jason Van Dyke, the Chicago police officer charged with murder in the 2014 shooting death of teenager Laquan McDonald while on duty, was found guilty on Friday.
A Cook County jury convicted Van Dyke guilty of second-degree murder, as well as 16 counts of aggravated battery ― one for each bullet he fired into McDonald, 17. He was acquitted of official misconduct, and a charge of first-degree murder was vacated for the second-degree conviction.
Judge Vincent Gaughan revoked bail and ordered Van Dyke taken into custody to await sentencing later this month. The officer faces up to 20 years in prison for the second-degree murder charge, and each aggravated battery charge carries a maximum sentence of six to 30 years.
The jury deliberated for less than eight hours over two days in the case, in which Van Dyke faced the possibility of life in prison for shooting McDonald on a Chicago street in October 2014 ― much of the confrontation captured on a police car dashcam. 
Van Dyke showed little emotion as the verdict was read by the foreman of the jury, which consisted of eight women and four men. He was promptly led out of the courtroom after the verdict.
Chicago police were on high alert as the city prepared for the verdict in the rare trial of an officer accused of murder for an on-duty killing. Hundreds of police were seen packing street corners and city parks. Jurors, who deliberated for five hours on Thursday and about 2 1/2 more on Friday, were sequestered by Judge Vincent Gaughan and kept at an unidentified hotel overnight.
Protesters and police had reportedly surrounded the courthouse before the verdict was read. There were reports that some workplaces allowed employees to go home early, and that some Chicago schools were on "soft lockdown" or let students go home in preparation for anticipated protests.
During the trial, Van Dyke testified in his own defense that he feared for his life and that McDonald was behaving erratically (an autopsy revealed PCP in his system). His defense team cited a state law that allows officers to use deadly force if it's necessary to stop a fleeing suspect who has committed a felony while using a deadly weapon, according to Vice News. McDonald was carrying a knife at the time, but the dashboard camera footage refuted Van Dyke's claim that the teen was aggressively swinging the blade at him.
"It's Jason Van Dyke firing bullets, ripping into the flesh of Laquan McDonald 16 times. That's not justified, that's not necessary — that's first-degree murder," prosecutor Joseph McMahon told jurors, according to NPR. He urged jurors to convict on first-degree murder and aggravated battery.
Van Dyke's lawyer, Dan Herbert, compared the scene that night to a monster movie, telling jurors that McDonald had attacked a truck driver and slashed a police vehicle's tires just before he was shot.
"When a monster turns and looks at the victim, that's when the music starts to play," the defense lawyer said.
Two alternative jurors who were dismissed from the trial on Thursday said they would have leaned toward finding the officer guilty of murder, according to the Chicago Tribune.
One of them, a white woman, noted that other officers on scene that night didn't use deadly force. 
"Where was [McDonald] actually causing an issue that Jason Van Dyke thought that he needed to use deadly force? I just didn't understand that," the alternative juror told the newspaper.