Sen. Jeff Merkley (D-Ore.) said Tuesday that Wheeler should "do the right thing" and "resign immediately" hours after HuffPost reported that the EPA chief engaged with inflammatory content on his personal Facebook and Twitter accounts.
"The head of a government agency has no place 'liking' racist memes or promoting the work of Pizzagate conspiracy theorists," Merkley tweeted. "If these are indeed Wheeler's actions, he should do the right thing for the @EPA and resign immediately."
In a statement on Tuesday, Wheeler said he did not remember liking an image of former President Barack Obama and First Lady Michelle Obama staring at a white person's hand holding a banana. He admitted recirculating and liking tweets from right-wing extremists and notorious conspiracy theorists, but said he agreed with the content of the posts and had not reviewed the sources.
"Over the years, I have been a prolific social media user and liked and inadvertently liked countless social media posts," Wheeler told HuffPost by email.
Neither the EPA nor the White House immediately responded to requests for comment Tuesday about Merkley's call for Wheeler to step aside.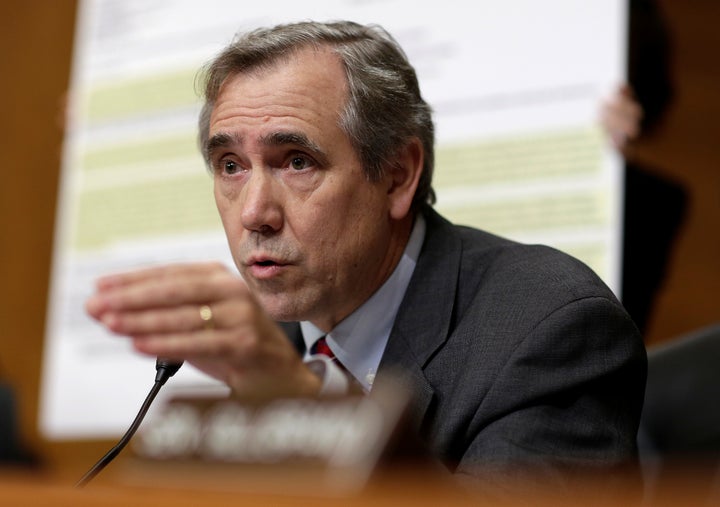 So far, no other lawmakers have joined Merkley. None of the Oregon lawmaker's nine colleagues in the Democratic delegation of the Senate Environmental and Public Works Committee responded to HuffPost's requests for comment on Tuesday. Nor did Reps. Carlos Curbelo (R-Fla.), Ileana Ros-Lehtinen (R-Fla.) and Elise Stefanik (R-N.Y.), the trio of moderate Republicans who were the first to call for Scott Pruitt, the former EPA administrator, to step down over in April his own personal scandals.
A spokesman for Rep. Don Beyer (D-Va.), who spearheaded efforts to investigate Pruitt, declined to comment.
Wheeler's social media interactions pale in comparison to Pruitt's mountain of ethical lapses and spending controversies. But the agency chief's pursuit of a radical deregulatory agenda, gutting greenhouse gas rules at a time when the United Nations is calling for unprecedented emissions cuts to avert catastrophic climate change, has drawn fierce criticism.
"Acting EPA administrator Andrew Wheeler has been exposed for tweeting, liking, and commenting on racist, misogynistic and conspiracy theory-peddling tweets," Lauren Lantry, a spokeswoman for the Sierra Club, said in a statement. "The communities most endangered by fossil fuel pollution, superstorms, and the other impacts of climate change are often communities of color like those Wheeler's posts mock."