Drake once posed in blackface to raise awareness about racism in entertainment, the singer said Wednesday in response to a photo rapper Pusha T shared publicly earlier this week. 
"I know everyone is enjoying the circus, but I wanted to clarify this image in question," Drake wrote. "This picture is from 2007, a time in my life where I was an actor and I was working on a project that was about young black actors struggling to get roles, being stereotyped and type cast. The photos represented how African Americans were once wrongfully portrayed in entertainment."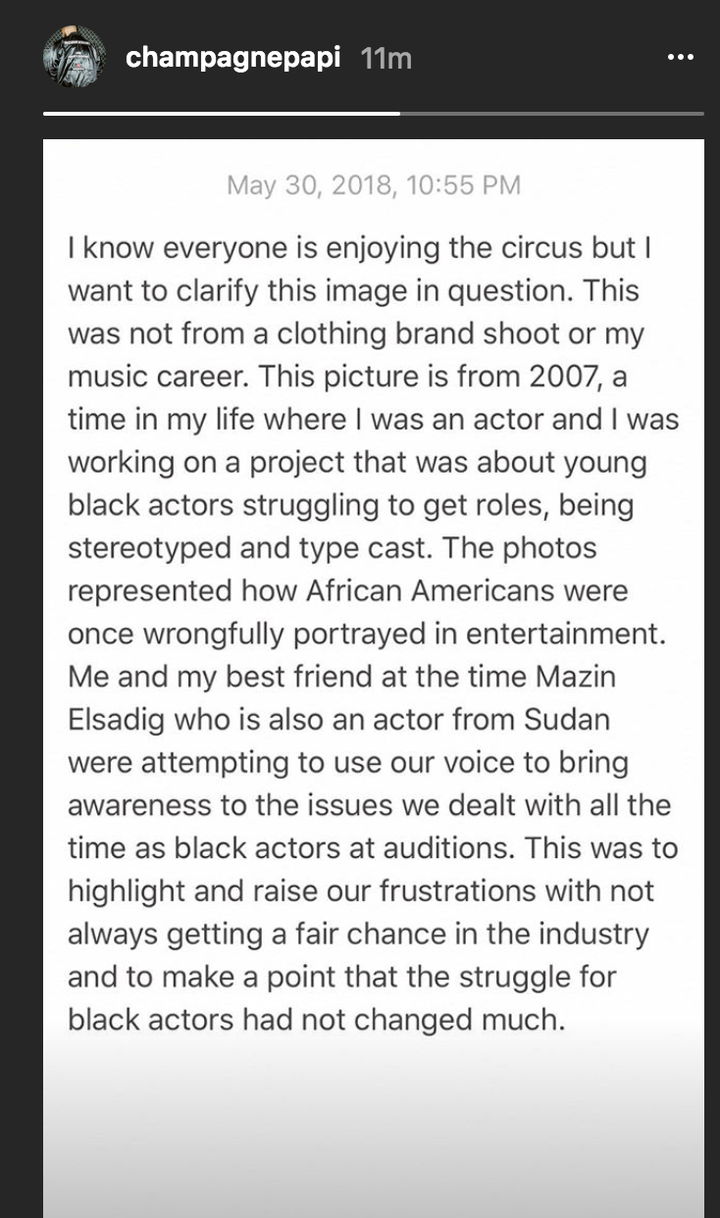 Adrian Aitcheson, founder of the brand Too Black Guys, supported Drake's claim in a statement. The brand made the shirt Drake is wearing in the blackface photo.
"The subtleties of Drake, a young black man, mimicking how white men used to mimic and dehumanize black people may be lost in a rap battle but we should not be distracted from the issues that are still affecting our communities," Aitcheson said, according to The New York Times' Joe Coscarelli. 
The controversial photo came to light when Pusha released it Tuesday, along with a new song called "The Story of Adidon." 
The feud between the two artists began when Pusha dropped his album "Daytona" last week. It includes a song called "Infrared," which accuses Drake of using a ghostwriter on his songs.
Drake responded with "Duppy Freestyle," on which he compared Pusha to a faded autograph. He also posted on social media an image of an invoice for $100,000 from Pusha for "promotional assistance and career reviving."
All of this led to "The Story of Adidon," on which Pusha claims Drake has a child with former adult film star Sophie Brussaux and calls his rival a "deadbeat." The song also taunts Drake's longtime collaborator Noah "40" Shebib for being diagnosed with multiple sclerosis. 
Many Twitter users have responded to Drake's statement about the blackface photo:
Drake's latest album, "Scorpion," is slated to drop June 30.