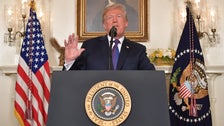 President Donald Trump ordered military strikes on Syria in response to a deadly chemical weapons attack on the town of Douma.
Trump announced in a Friday night press conference that a combined operation in collaboration with France and the United Kingdom was underway.  
"The purpose of our actions tonight is to establish a strong deterrent against the production, spread and use of chemical weapons. We are prepared to sustain this response until the Syrian regime stops its use of prohibited chemical agents," Trump told the American people. 
Trump had spoken to both French President Emmanuel Macron and British Prime Minister Theresa May this week about a coordinated response. The president detailed on Friday that the coordinated strikes would hit targets associated with the Syrian regime's chemical weapon capabilities. 
On Friday, Trump once again called out Assad's allies. "To Iran and Russia I ask, what kind of nation wants to be associated with the mass murder of men women and children? The nations of the world can be judged by the friends they keep. Russia must decide if it will continue down this dark path or if it will join with civilized nations as a source for stability and peace. 
Syrian government forces took precautions at military bases throughout the week in anticipation of possible strikes. There were reports that various air bases had been evacuated. The Organization for the Prohibition of Chemical Weapons, meanwhile, confirmed Tuesday it was sending a fact-finding mission to investigate the attack in Syria.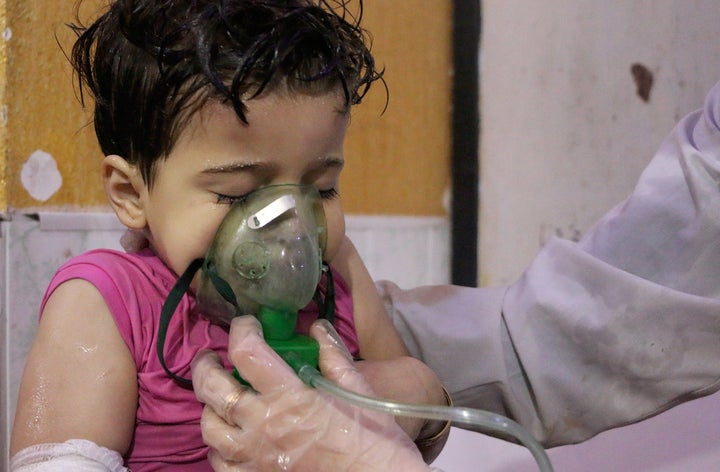 Trump ordered cruise missile strikes on a Syrian air base almost exactly one year ago following a chemical attack on civilians in the town of Khan Sheikhoun that the U.S. blamed on Assad. Experts said the U.S. retaliation did little to deter Assad's campaign against his own people.
The latest strikes reflect a similar strategy of punishing Syria for its use of chemical weapons but going no further ― in other words, a "glorified rap on the knuckles," Chris Phillips, author of The Battle For Syria, told HuffPost. "The whole point of this is deterrence."
Former President Barack Obama, now remembered for promising military action if Assad crossed the "red line" of using chemical weapons, contemplated a strike in 2013. But Obama sought congressional approval and the strike never happened. 
"If President Obama had crossed his stated Red Line In The Sand, the Syrian disaster would have ended long ago!" Trump tweeted on Sunday. "Animal Assad would have been history!"
Trump's retaliation further muddies his own approach to Syria. Just last week, he floated the possibility of imminently withdrawing the 2,000 U.S. troops stationed in the country. His own top military advisers, meanwhile, offered a contradictory message, implying that the U.S. still has plenty to do to root out the self-described Islamic State. 
This is a developing story. Check back for updates.