Actress Frances McDormand on Wednesday renewed her advocacy for Hollywood inclusion riders, three months after she first brought attention to the issue in a rousing acceptance speech at the Oscars.
"Little did I know. Now I know a lot more. And I'm here tonight to take some responsibility for my actions and to restate a call to action," McDormand said during a speech at the Women In Film 2018 Crystal + Lucy Awards in Los Angeles. "If I may use a sporting metaphor: If you want to go fast, go it alone. If you want to go far, do it together."
Turning her backside to the audience, the two-time Oscar winner held a bumper sticker reading "Inclusion Rider" across her butt. The sticker resembled the red signs in her movie "Three Billboards Outside Ebbing, Missouri."
"Every revolution needs really good merch," McDormand quipped.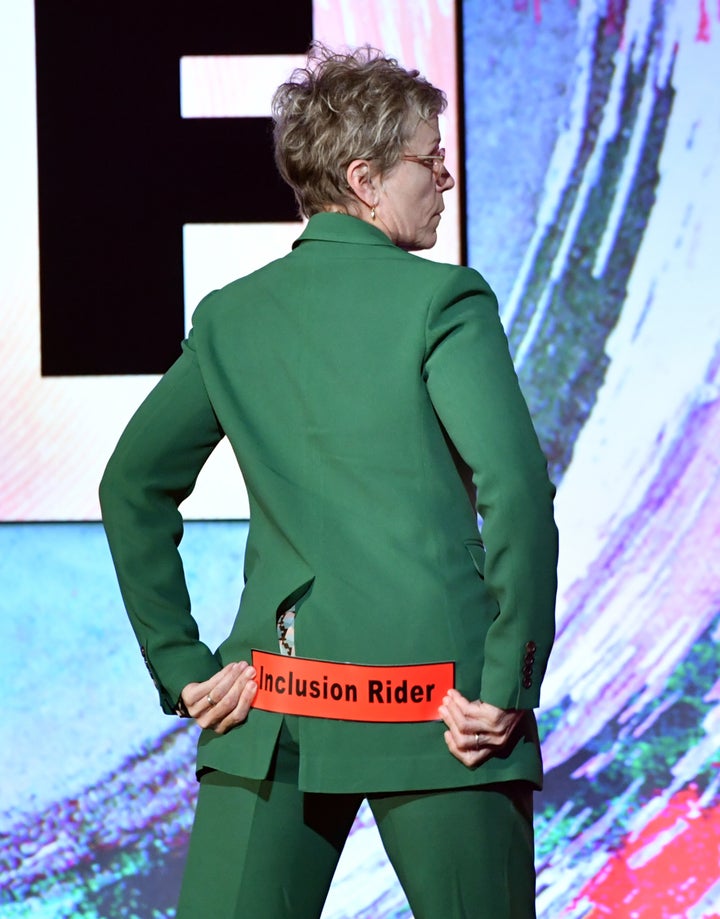 In her remarks, McDormand paid tribute to Stacy L. Smith, a University of Southern California professor who first proposed the idea of inclusion riders, which are contract provisions that require film and television projects to commit to proportional representation and a diverse cast and crew.
When McDormand won the Best Actress Oscar for her role in "Three Billboards Outside Ebbing, Missouri" in March, she ended her acceptance speech by saying: "I have two words to leave with you tonight, ladies and gentlemen: inclusion rider." The comment initially bewildered both audience members and viewers at home.
McDormand acknowledged on Wednesday that her message had been a bit "improvised" and that in the moment, she had gotten "flustered."
Nonetheless, since that March night, multiple Hollywood stars and filmmakers ― including Michael B. Jordan, Matt Damon and Ben Affleck ― have pledged to adopt inclusion riders in their new projects. Filmmaker Ava DuVernay and television powerhouse Shonda Rhimes, among others, have been advocating for inclusion on their projects for years.
But industry executives have been slow to incorporate the practice. Vanity Fair reported earlier this month that among the major Hollywood studios, none offered any details or concrete steps to encourage the use of inclusion riders.
"It's because of women that we're in this transformative moment," Smith told the audience Wednesday. "We have identified our common purpose. This time, it's not two words. It's one: hiring."