A New York-based political stunt group calling itself the Clean Money Project planted spoof gifts in the museum store and staged fake exhibit signs on Monday in a bid to highlight the hypocrisy of allowing Mercer, a major donor, to remain on its board of directors.
The group put postcards on display with Mercer's picture and the words "climate change denier and museum board member" alongside Isaac Newton with the slogan "global warming is a myth" and Albert Einstein facetiously quoted as saying, "There's no way to prove climate change is related to fossil fuels." The group posted a video of the stunt on YouTube. 
Mercer has donated $4.1 million to the museum over the past four years through her family's foundation, and has sat on the board since 2013.
The Long Island heiress to her father's hedge fund fortune also funded and orchestrated candidate Donald Trump's presidential campaign, bankrolled the right-wing news site Breitbart and donated millions to climate change denial think tanks. More than 200 scientists launched a campaign in January demanding that the museum remove Mercer, whom they called an "anti-science propagandist," from the board.
A similar effort in 2015 forced fossil fuel billionaire David Koch, one of the top financiers behind the climate denial movement, to leave the museum board.
The stunt this week was not connected to the campaign. A member of the group spoke on condition of anonymity to prevent security officials from identifying him in future projects, but HuffPost confirmed his identity.
"We want Rebekah Mercer off the board, and we do think the Natural History Museum is complicit in allowing these people to be two-faced," he said. "They're giving them credibility when they are spending much more money battling science and undermining science."
The satirical products also included bottled "fracking water" branded with the Koch brothers' name and flammability warnings, a 2019 calendar celebrating the "beauty of CO2" with photos of smokestacks, and an empty two-foot box advertising a "home fracking set" that looked like a kids' chemistry kit.
In various wings of the museum, the group left behind framed signs proclaiming a new "Breitbart evolution wing" sponsored by Mercer and a Koch Enterprises-funded "fossil-fuel appreciation wing."
"The Museum doesn't have anything to add to the information you already have," Roberto Lebron, a museum spokesman, said in regards to the group's stunt via email Wedensday.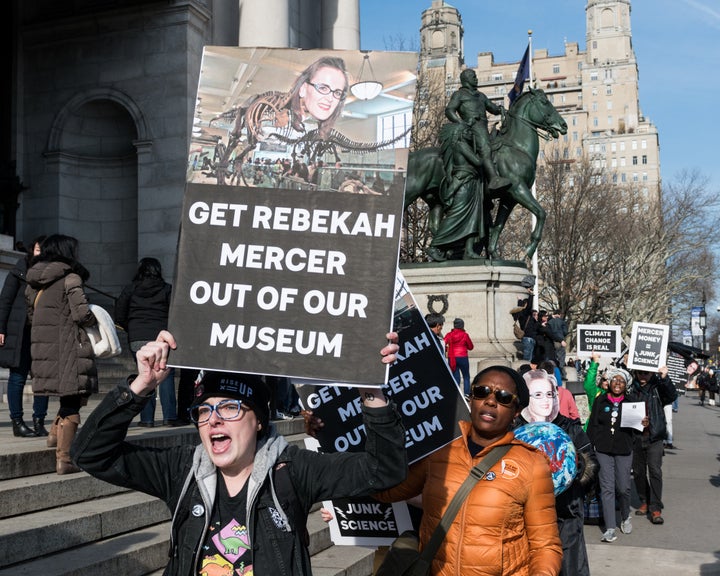 The Mercer Family Foundation has donated generously to climate misinformation groups in recent years, contributing nearly $5.9 million to the Heartland Institute, a leading proponent of climate science denial, between 2008 and 2016, according to previously unreleased tax filings reviewed and published by HuffPost in January.
The foundation increased spending on climate denial in recent years. The family gave $150,000 to the CO2 Coalition, an organization born from the ashes of the defunct George C. Marshall Institute, which denied global warming and lobbied against the science behind acid rain and carcinogens in cigarette smoke. It also provided $125,000 to the Arizona-based Center for the Study of Carbon Dioxide and Global Change, an oil-funded think tank run by former Peabody Energy executive Craig Idso.
In a rare and widely derided public statement in February, Mercer dismissed accusations that she is "anti-science" as "absurd smears."
"I oppose politicized science, in which researchers cannot study certain subjects — or even ask certain questions — for fear of career-ending backlash and persecution," she wrote in an op-ed published in The Wall Street Journal. "These beliefs shape my philanthropy and my political activity."
Mercer did not respond to a request for comment on Wednesday.