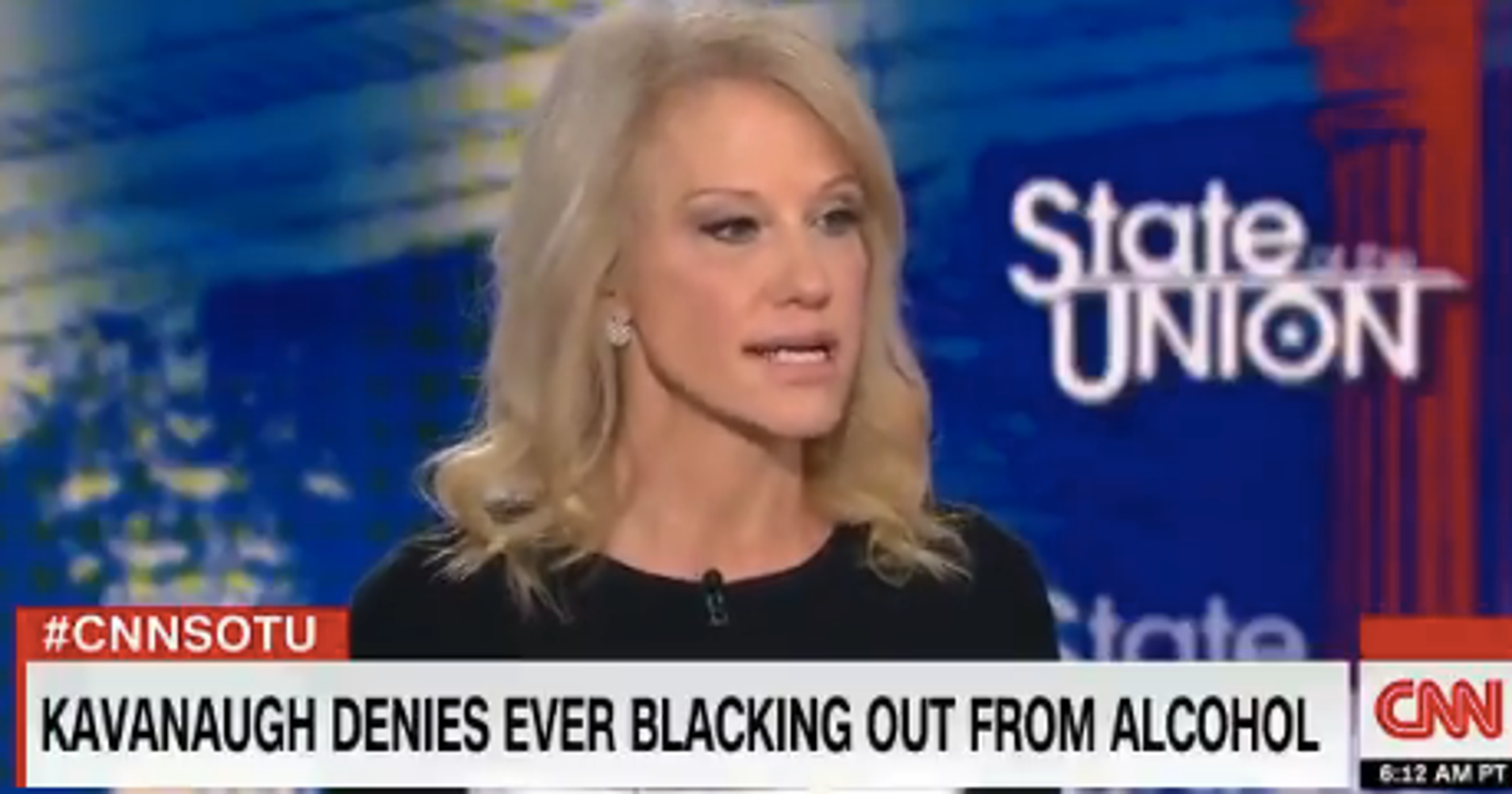 Top White House adviser Kellyanne Conway disclosed on Sunday that she is a sexual assault survivor while defending Supreme Court nominee Brett Kavanaugh amid multiple sexual misconduct allegations lodged against him.
"I feel very empathetic, frankly, for victims of sexual assault and sexual harassment and rape," Conway said on CNN's "State Of The Union." 
Becoming visibly emotional, she told host Jake Tapper: "I'm a victim of sexual assault."
She offered no details on the assault, but said, "I don't expect Judge Kavanuagh or Jake Tapper or [Arizona GOP Sen.] Jeff Flake or anybody to be held responsible for that. You have to be responsible for your own conduct."
Tapper said, "This is the first time I've ever heard you talk about something personal like that, and I'm really sorry."
"Well, I've just had it," Conway replied.
Her disclosure follows Thursday's highly charged testimony before the Senate Judiciary Committee by Kavanaugh and Christine Blasey Ford, who has accused the federal appeals court judge of sexually assaulting her when they both high school students.
Blasey alleges Kavanaugh pinned her down, groped her and attempted to remove her clothes during a small gathering in suburban Maryland in the early 1980s. In his defiant ― and, at times, weepy ― testimony, Kavanaugh vehemently denied the allegations.
Last week, two additional women ― Deborah Ramirez and Julie Swetnick ― also accused him of sexual misconduct in the early 1980s. Ramirez alleges Kavanaugh thrust his penis into her face at a dormitory party when they were both freshmen at Yale University. Swetnick alleges she witnessed Kavanaugh and one of his friends at several high school parties getting "drunk" and "being overly aggressive with girls."
Kavanaugh has denied ever sexually assaulting anyone.
Conway during her CNN appearance downplayed the allegations, saying they didn't compare to the sexual misconduct allegations faced by comedian Bill Cosby, who earlier this year was convicted of aggravated indecent assault, or former President Bill Clinton.
"Let's just be honest what this is about," Conway said of the Kavanaugh controversy. "It's raw partisan politics."
Tapper, acknowledging Conway's emotional revelation, questioned her about the more than 20 accusations of sexual misconduct against President Donald Trump.
"You work for a president who says all the women who accuse him are lying," Tapper said. "As a survivor of this ― and again I'm deeply, personally very sorry about whatever pain you've gone through ― but does that not make you think when you hear somebody like [Ford] or other people make allegations, does that not make you think, these women need to be heard and even if there are not corroborating witnesses … absence of evidence is not evidence of absence?"
Conway pushed back on Tapper's mention of the president, saying "don't conflate" the accusations against him "with what happened to me" and "let's not always bring Trump into everything."
She also claimed sexual assault allegations have been viewed differently by the public based on the victims' or perpetrators' political leanings.
"Jake, they should all be heard, and they should be heard in courts of law," Conway said. "They should be heard in depositions. They should be heard in proceedings. Those who can prosecute, those who have civil and/or criminal causes of action, should pursue that."
"But we do treat people differently who are either the victims or the perpetrators of this based on their politics now and based on their gender," she added. "That is a huge mistake. America, it's a huge mistake."