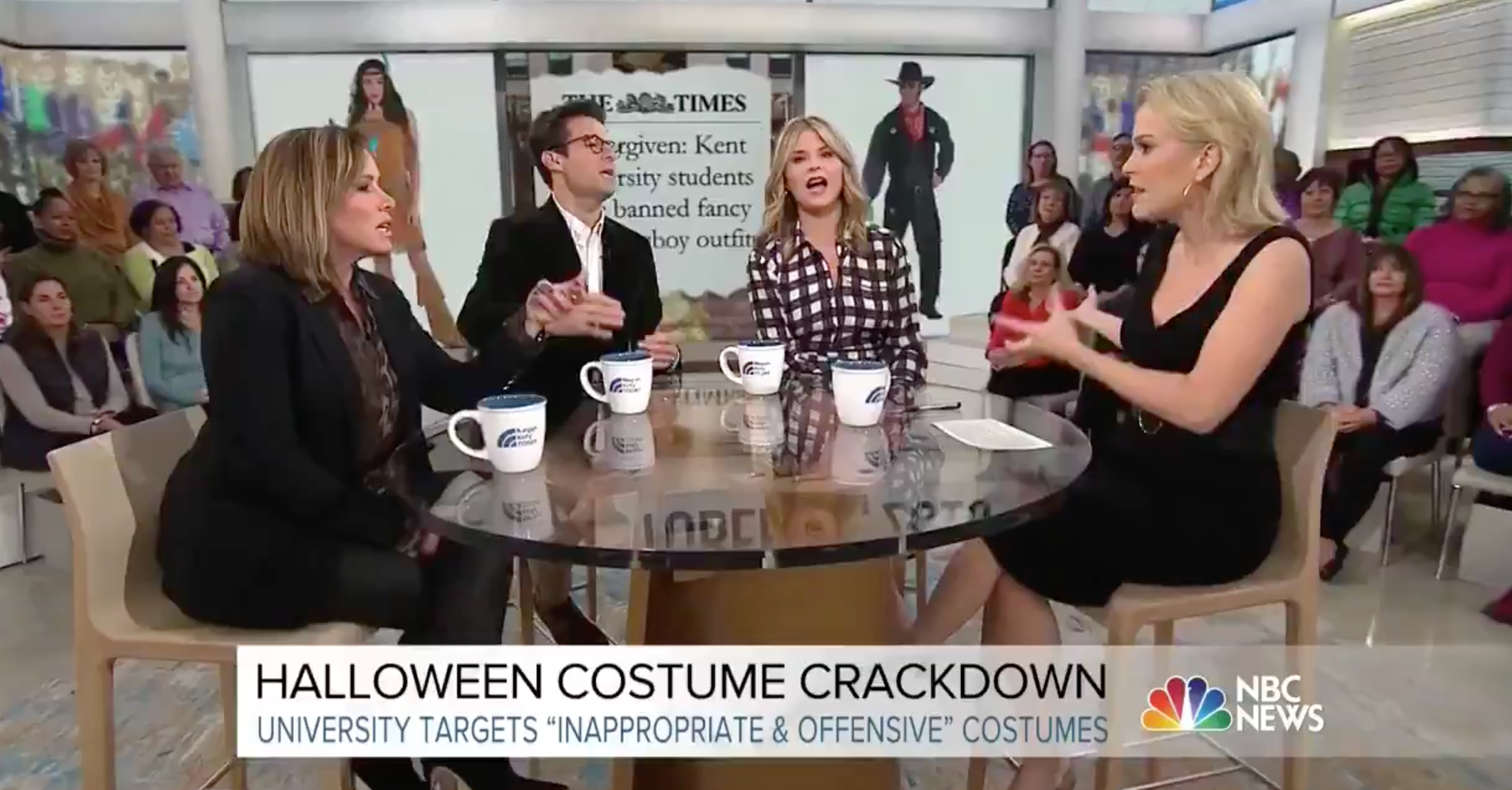 With Halloween fast approaching, Megyn Kelly on Tuesday gathered a panel of three other white people ― TV personality Melissa Rivers, journalist and former first daughter Jenna Bush Hager and MSNBC correspondent Jacob Soboroff ― on "Megyn Kelly Today" to discuss the boundaries of racial sensitivity in wearing costumes.
Kelly was all fired up by the student union at the University of Kent, a college in England. Students at the school moved to ban certain Halloween costumes this year, including Native Americans, priests and Mexicans.  
"What is racist?" asked Kelly, cutting right to the point. Photos of children in Native American and cowboy costumes provided the pensive conversation a backdrop.
She acknowledged that nowadays "you get in trouble" for being a white person who puts on blackface (her panel nodded in agreement) or the reverse (more nodding). But she then seemed to defend people who put on blackface in the past. 
"When I was a kid, that was OK, so long as you were dressing up as a character," said Kelly, who was born in 1970. 
None of the panelists challenged or added to that statement.
Attempting to bolster her point, Kelly argued that Halloween is always going to be "jarring" because "you have guys running around with fake axes coming out of their head."
Still, everyone seemed to agree with Rivers when she said, "If you think it's offensive, it probably is." 
"What ever happened to just manners and polite society?" she then wondered aloud unironically. Polite society members, aka "normal people," don't need the "PC police" to tell them what to do, said Rivers, who for some reason thought it pertinent to explain how her son really liked holding the plastic ax from his firefighter costume one year.
Bush Hager interjected to opine, "I think that there are limits in how far you want to go, because you're making people feel bad."
Yet that did not stop Kelly from strongly defending "Real Housewives of New York" star Luanne de Lesseps for appearing to darken her skin to dress up as Diana Ross, as she did in an episode that aired over the summer. (De Lesseps apologized for the costume and said that she was not trying to darken her skin and that she was just wearing bronzer.) 
"I can't keep up with the number of people we're offending just by being normal people," Kelly concluded. 
It was an unsurprising few minutes brought to TV screens nationwide by the woman who once wanted kids to know that Santa can only be white.
It caught the eye of comedian Patton Oswalt, who called out Kelly via Twitter.
"You and I are approximately the same age. Blackface was NOT okay when we were kids," he wrote, appearing to refer to backlash he received for wanting to dress as black comedian Nipsey Russell.