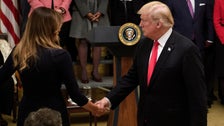 Trump spoke about how the bipartisan legislation would address the nation's deadly epidemic in the White House East Room on Wednesday. But after finishing his address, he appeared to turn to leave without inking it into law.
Trump's wife redirected him to where he eventually signed the bill, amid laughter from those in attendance.
Footage of the incident soon trended on Twitter:
Mrs Trump stops her husband from heading out of the East Room, reminding him he needed to sign the opioid treatment and prevention bill. pic.twitter.com/4LOJkvuxQC

— Mark Knoller (@markknoller) October 24, 2018
That footage also went viral, and inspired this "Veep"-style parody:
Trump declared the opioid crisis "a national emergency" in 2017.
"Together we are going to end the scourge of drug addiction in America," Trump said at Wednesday's signing. "We are going to end it or we are at least going to make a big dent into this terrible, terrible problem."