After nearly seven months and more than 300 million miles, NASA's InSight spacecraft touched down on Mars on Monday to cheers.
The suspenseful landing, which followed what engineers described as "seven minutes of terror" as the robot rapidly decelerated from 12,300 to 5 mph, is NASA's first such landing attempt on the Red Planet in six years.
Since 1960, various national space agencies have made 44 similar attempts to land on Mars, but only 18 of those were completely successful, according to NASA.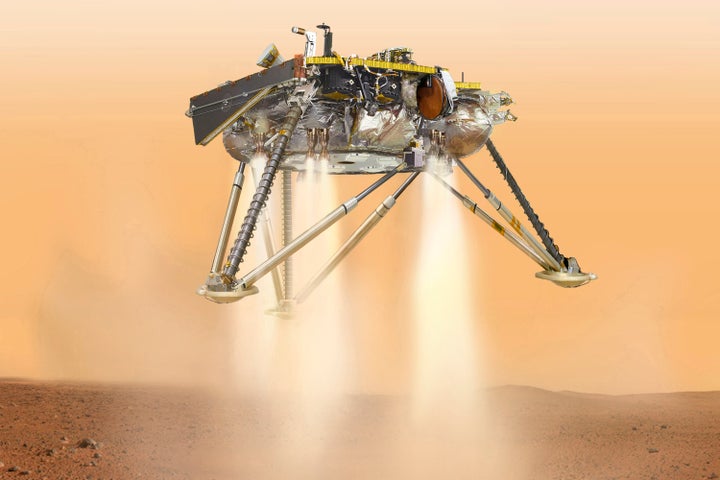 Vice President Mike Pence was among the immediate well-wishers on Twitter who lauded NASA's achievement as an "incredible milestone."
Once on Mars, InSight will drill into the ground with a probe to offer mankind a first-ever look inside the Red Planet.
"We've studied Mars from orbit and from the surface since 1965, learning about its weather, atmosphere, geology and surface chemistry," Lori Glaze, acting director of the planetary science civision in NASA's Science Mission Directorate said in a release on Sunday. "Now we finally will explore inside Mars and deepen our understanding of our terrestrial neighbor as NASA prepares to send human explorers deeper into the solar system."
The robot's journey was especially harrowing for its team of scientists and engineers, who had no control of it once it reached Mars' atmosphere. Instead, NASA's entry, descent and landing team (EDL) spent months pre-programing the spacecraft's landing, basing their calculations off of weather reports that they received from NASA's Mars Reconnaissance Orbiter.
About two hours before InSight began its landing, the EDL team made some final tweaks to the spacecraft's flight path before it carried out its landing solo.
This is a developing story. Check back for updates.