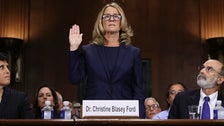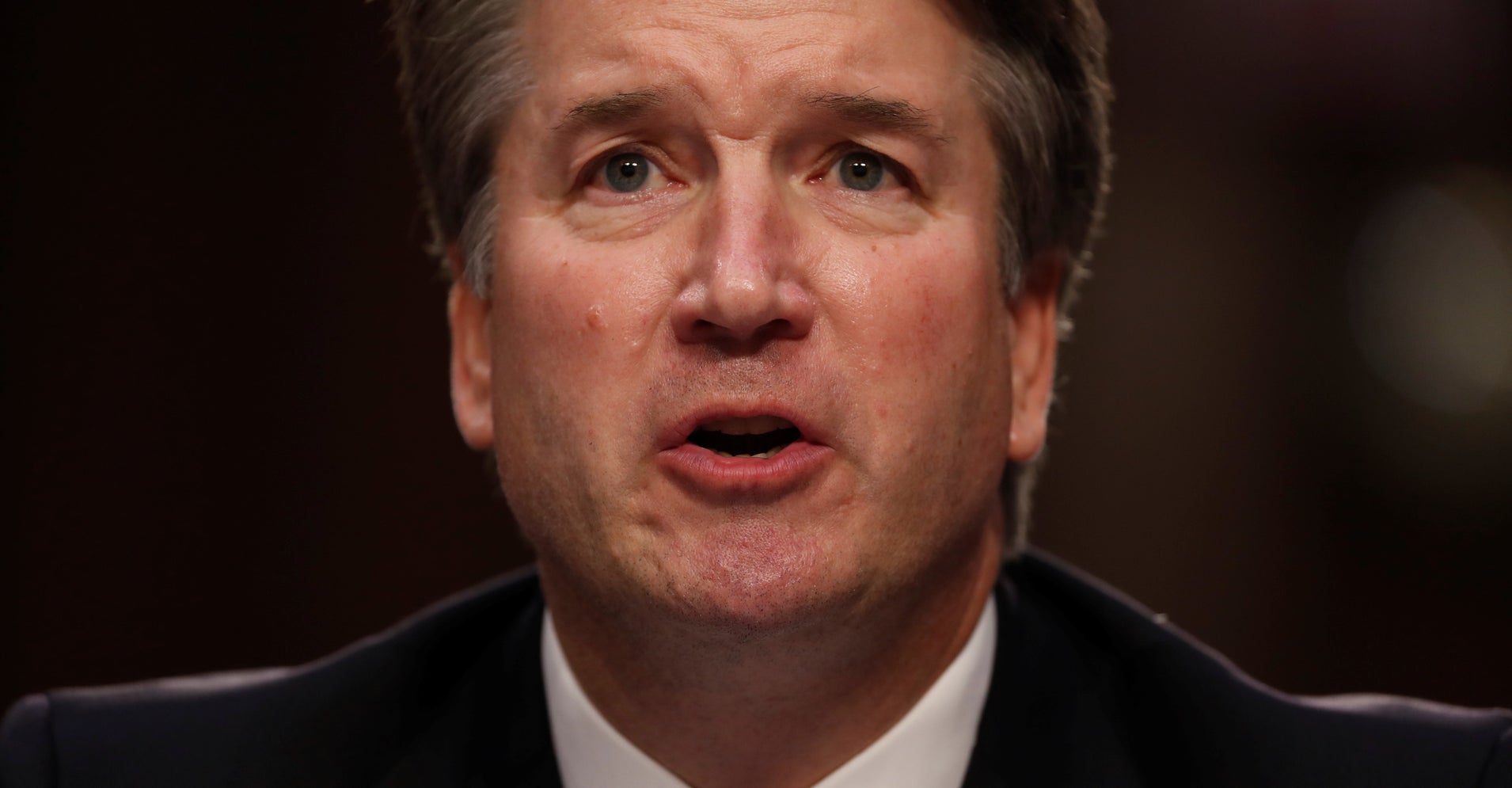 Judge Brett Kavanaugh, President Donald Trump's nominee for the Supreme Court, and Christine Blasey Ford, a woman who has accused him of sexual assault, both testify in front of the Senate Judiciary Committee on Thursday.
Blasey was the first of three women to publicly accuse Kavanaugh of sexual misconduct. Trump nominated Kavanaugh in July to replace retiring Justice Anthony Kennedy.
Blasey will be questioned by Rachel Mitchell, a prosecutor from Arizona who was hired by Republicans on the Senate Judiciary Committee. Chairman Chuck Grassley (R-Iowa) said he hired Mitchell to "de-politicize the process," which otherwise would have involved only Republican men questioning Blasey.
Read live updates on the hearing below. (You may need to refresh the page to see the latest updates.)
Blasey said her "greatest fears have been realized" since coming forward with her allegation against Kavanaugh. 
"I've had to relive this trauma in front of the world, and I have seen my life picked apart on television, on Twitter, on other media, and in this body," she said. "I have been accused of partisan political motives. Those who say that don't know me. I'm an independent person. I'm no one's pawn. My motivation in coming forward was to be helpful. … My responsibility is to tell you the truth."
"Brett's assault on me drastically altered my life," Blasey said. She explained that she did not want to tell her parents that she had been "drinking beer with boys" at a party without adult supervision. She said she told very few friends over the years about having been assaulted.
Blasey said she was compelled to recount the assault while at couple's counseling in May 2012 because it had interfered with an extensive remodel of the family's home. Blasey insisted on adding a second front door, which her husband could not understand until she described her memory of being locked in a bedroom and assaulted.
She then recalled the slow process of telling other people close to her about the assault as Kavanaugh emerged as a potential Supreme Court nominee.
In Blasey's opening statements, she said she was "terrified" of giving her testimony.
Blasey said she met Kavanaugh through friends and that they sometimes attended the same parties, although they did not know each other well.
"It was almost surely a spur-of-the-moment gathering," Blasey said of the party where she says she was assaulted. "The details about that party that bring me here today are ones I will never forget."
Blasey beings to tear up as she delivers her prepared remarks on the night of the alleged assault.
Feinstein concluded by saying, "This is not a trial of Dr. Ford, it's a job interview for Judge Kavanaugh. … Is he the best we can do?"
The senator reviewed the allegations made by Debbie Ramirez and Julie Swetnick, along with statements from women who say they knew Kavanaugh at Yale University and that he drank much more heavily at that time than he has claimed.
Ramirez told The New Yorker that Kavanaugh thrust his penis in her face at a party in the 1980s. Swetnick says Kavanaugh attended parties where women were sexually assaulted, but did not accuse the nominee himself of assault.
Grassley previously said that his staff made eight requests for evidence from attorneys for Ramirez and six requests for evidence from attorneys from Swetnick but that the attorneys did not make their clients available.
― Nina Golgowski and Sara Boboltz
Feinstein slammed the Senate Judiciary Committee for failing to subpoena Mark Judge, a friend of Kavanaugh who Blasey says was in the room during the alleged sexual assault. Blasey says she was pinned on a bed beneath Kavanaugh but escaped when Judge jumped on top of them.
"I'm here because I believe her," said Meghan Foley, one of the demonstrators.
Feinstein said the FBI investigated Anita Hill's allegations against Clarence Thomas and called the agency's involvement a "normal process and squarely within its jurisdiction."
Feinstein responded to Grassley's criticism by saying she withheld the letter at Blasey's request.
"Yes, I did receive a letter from Dr. Ford … The next day I called Dr. Ford," she said. "We spoke on the phone. She reiterated that she wanted this held confidential, and I held it confidential up to a point where the witness was willing to come forward. I think as I make my remarks perhaps you'll see why. How women are treated in the United States with this kind of concern is really wanting a lot of reform."
Feinstein went on to thank Blasey for sharing her story.
Grassley further downplayed requests for the FBI to investigate the Kavanaugh allegations by quoting then-Sen. Joe Biden's remarks during the 1991 hearing for Clarence Thomas, who was a Supreme Court nominee at the time. Biden was quoted as saying, "The next person who refers to an FBI report as being worth anything obviously doesn't understand anything." Biden was the chairman of the Senate Judiciary Committee when Thomas was accused of sexual harassment by Anita Hill.
Grassley pointed to the FBI's background check on Kavanaugh, saying nowhere in the report was there a "whiff" of inappropriate sexual behavior. He then emphasized that Sen. Dianne Feinstein (D-Calif.), the ranking Democrat on the committee, was aware of Blasey's allegation against Kavanaugh but chose not to question him about it during the judge's original hearings earlier this month. He said Feinstein revealed her "secret evidence" in the "eleventh hour."
The chairman also addressed calls for the FBI to reopen its background investigation on Kavanaugh, saying that doing so would not be of much help.
Grassley apologized to Blasey and Kavanaugh for the harassment and threats they and their families have endured over last few weeks.
"Both Dr. Ford and Judge Kavanaugh have been through a terrible couple of weeks," he said, kicking off the hearing. "What they have endured ought to be considered by all of us as unacceptable and a poor reflection on the state of civility on the state of democracy. I want to apologize to you both."
Blasey has sat down before the committee with her attorney, and Grassley has gaveled-in the hearing.
More than 50 progressive groups wrote to Grassley on Thursday, asking him to resign as chair of the Judiciary Committee over his treatment of Blasey.
"You have publicly bullied a woman who has stepped forward to report allegations of sexual assault," reads the letter, endorsed by groups including Progress Iowa and MoveOn. "You and your staff had knowledge of the allegation prior to it becoming public, and prepared a defense for the nominee while expeditiously moving through the nomination process with the hope it would never be uncovered."
Grassley is probably not going to resign because a bunch of progressive groups want him to, but hey, points for trying. Read the full letter here. 
Actress Alyssa Milano is among those attending the hearing, reportedly as a guest of Sen. Dianne Feinstein (D-Calif.). She told reporters that she wants to show support for Blasey.
Deborah Ramirez, who became the second person to accuse Kavanaugh of sexual misconduct, sent Blasey a positive message on Thursday.
"Thinking of you today, Christine," she said in a message tweeted by her lawyer John Clune. "They want us to feel alone and isolated but I'm there wrapping my arms around you and I hope you feel the people of this nation wrapping their arms around all of us. Holding you up in spirit." 
Reporters have been told Christine Blasey Ford has arrived on the Hill.
People are lining up to witness history. TPM's Cameron Joseph captured the long line outside of the overflow room.
You can read Kavanaugh's prepared testimony on the accusations against him here; you can read Blasey's prepared testimony here. 
Both released their written statements Wednesday.