An image of a model wearing a small-sized sweatshirt that proclaims "Being Fat Is Not Beautiful, It's An Excuse" provoked instant backlash after it appeared on the clothing site Revolve on Wednesday. 
Model Tess Holliday, the site Fashionista, and U.K.-based artist Florence Given, as well as many others on social media, denounced the $168 sweatshirt, made by the brand LPA.
"LOLLLLL @REVOLVE y'all are a mess," Holliday tweeted. 
LPA is founded by Pia Arrobio. According to an Instagram direct exchange between LPA and Given, the sweatshirt was a misguided attempt to reclaim trolls' toxic messages to women.
"It's a collaboration with five women with the worst troll quotes," the messages read. "The point was to shine the light on how horrible trolling is. The proceeds benefit charity. So basically it's the opposite of what it seems." 
LPA and Revolve did not immediately return HuffPost's requests for comment. 
The offensive quote on the sweatshirt above was apparently something a troll said to Paloma Elsesser, who describes herself as a plus-size model. Below the quote, the sweatshirt reads, "as told to @palomija" ― which is Elsesser's Instagram handle ― in tiny letters. 
The website currently lists the product as sold out, though the page is still up on Revolve. Fashionista editor Tyler McCall pointed said the sweatshirt only went up to a size XL before it was listed as sold out.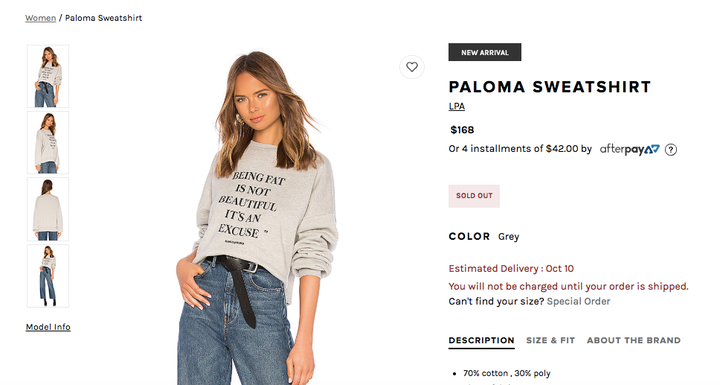 This is a developing story. Please check back for updates.