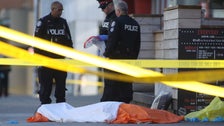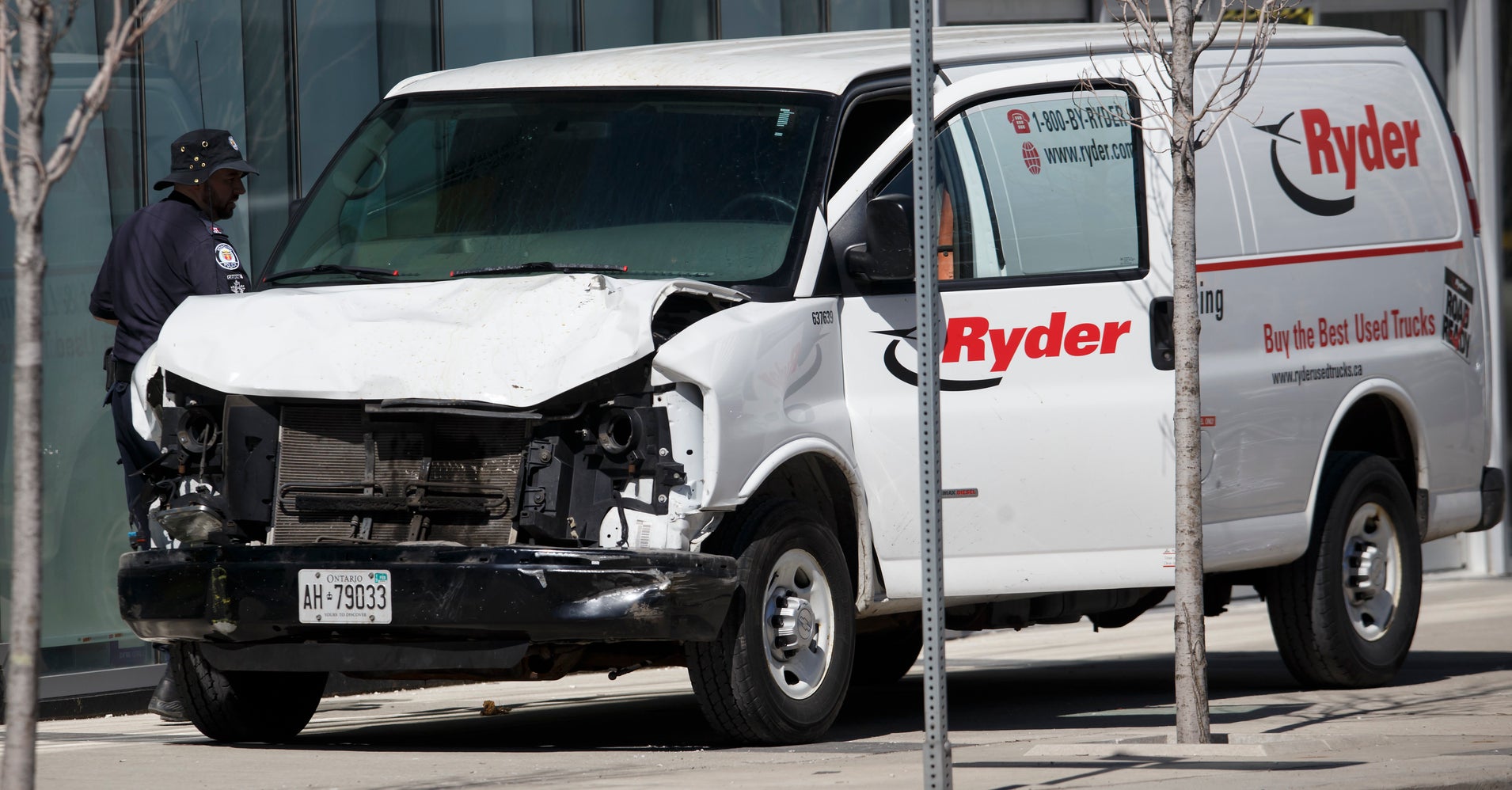 Ten people are dead and at least 15 others are injured after a van drove onto a sidewalk in Toronto's North York neighborhood on Monday. 
The driver was taken into custody shortly after the incident. Deputy Peter Yuen of the Toronto police confirmed the number of fatalities during a press briefing on Monday afternoon.
Toronto Police Chief Mark Saunders later identified the suspect as 25-year-old Alek Minassian, of Richmond Hill, Ontario.
As of late Monday, investigators were looking into terrorism as a likely motive behind the attack, Reuters reported, citing a U.S. security source. Saunders said investigators were not ruling out terror as a possible motive but noted that there was currently no threat to national security.
The Toronto Police Operations Centre tweeted Monday afternoon that police were responding to an incident in which a "white van" had struck "numerous pedestrians" at the intersection of Yonge Street and Finch Avenue East just before 1:30 p.m. local time. Initial reports indicated that eight to 10 people may have been injured, though police said it was too early to confirm the "extent of injuries."
Police said the van mounted the curb, striking several pedestrians, before fleeing the scene, according to City News. Authorities apprehended the vehicle roughly a mile south of the collision, and the driver was taken into custody, a police department spokesperson confirmed to HuffPost. No motive has been reported.
Ralph Goodale, Canada's minister of public safety, confirmed in a press briefing Monday afternoon that there were multiple casualties.
"We cannot come to any firm conclusions at this stage," he said, regarding the driver's motive. He also said there was no information available to him that would change the risk level to the public.
Sunnybrook Hospital tweeted that it had received 10 victims from the incident at its trauma center. Two of the victims were pronounced dead upon arrival. Five people remain in critical condition and three are in serious condition, a spokesperson for the hospital told reporters on Monday.
Aerial footage appeared to show a white van from rental company Ryder that eyewitnesses identified as the vehicle from the incident.
"We are saddened by this tragic event, and our deepest sympathies go out to those impacted," the company said. "We take the safety and security of our entire fleet very seriously and we are cooperating fully with authorities."
The Toronto Star published a video of the suspect being arrested. In the video, apparently taken by a bystander, the suspect appears to be holding an object in his hand and pointing it at police officers, though it is not clear what the object is. A police officer can be heard repeatedly saying "Get down," and the suspect at one point appears to say: "Kill me."
The area around the collision was closed to traffic on Monday afternoon after the incident. Subway service was also suspended in the area, CNN reported.
Toronto Mayor John Tory said in a press briefing that there would "likely be several days of disruption" in the area as the investigation continues. He asked that businesses and office buildings close for the remainder of the day and send employees home.
Tory also noted that the city was in the process of establishing two hotlines ― one for those worried about loved ones who may have been affected and a second for anyone with information that might help the police investigation.
Alex Shaker, who was driving southbound on Yonge Street at the time of the incident, told CTV News Channel that he saw the van driving at a high speed on the sidewalk.
"He started going down on the sidewalk and crumbling down people one by one," Shaker said Monday afternoon, noting that he saw the vehicle hit someone with a stroller.
"He just destroyed so many people's lives," he said. "Every single thing that got in his way."
Canada's prime minister, Justin Trudeau, was briefed on the incident. He said in a statement to reporters: "Our hearts go out to anyone affected. We're obviously going to have more to learn and more to say in the coming hours."
See more photos from the scene below:
This is a developing story. Check back for updates.
Nick Robins-Early and Sarah Ruiz-Grossman contributed to this report.