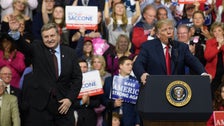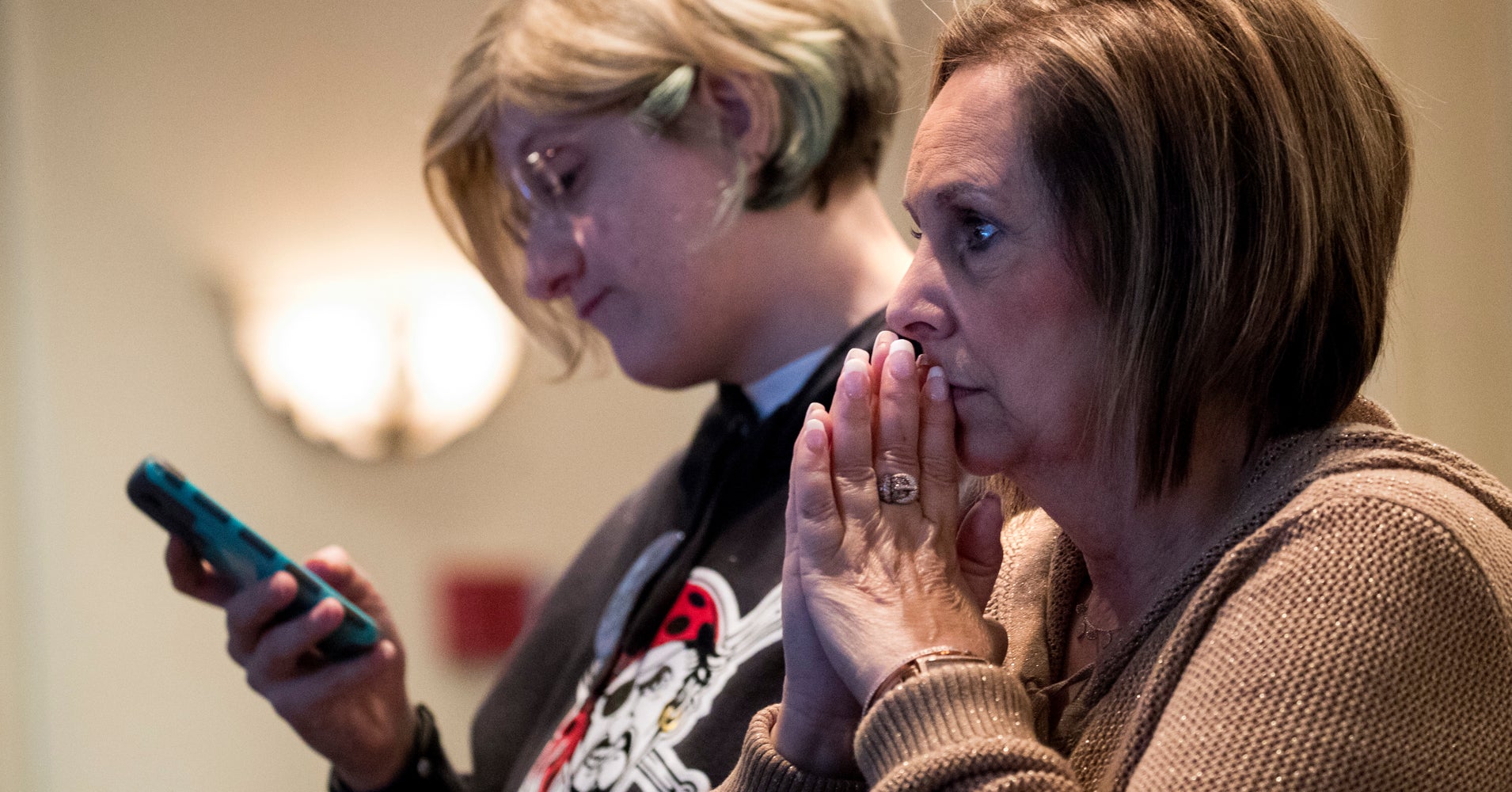 ELIZABETH TOWNSHIP, Pa.― Democrat Conor Lamb held a slight vote lead over Republican state Rep. Rick Saccone late Tuesday with 99 percent of precincts reporting — a result that will likely end in a recount.
The Associated Press said it was not declaring a winner on Tuesday because the race is too close to call, but Lamb declared victory early Wednesday morning.
There is no automatic recount on the congressional district level in Pennsylvania, according to state law. Candidates can, however, petition for a recount within five days after counties complete their vote computations.
"I would rather be in Lamb's shoes right now," former Sen. Rick Santorum (R-Pa.) said late Tuesday on CNN.
About 11:30 p.m. Tuesday, Saccone came downstairs from the war room with his wife, Yong, his son, daughter-in-law and two grandchildren. "I just came down to let you know, we're still fighting the fight," he said. "It's not over yet."
At one point a woman in the crowd yelled out, "There was some monkey business going on at the voting polls, Rick!"
Saccone thanked his supporters and let them know they could go home, because his campaign would be working late into the night.
Yet, win or lose, the result represents massive progress for the Democratic Party. It reflects the heightened enthusiasm of the party's liberal base ahead of the 2018 congressional midterms, and it also signals dissatisfaction of many voters with President Donald Trump. The commander in chief carried the district by nearly 20 percentage points in the 2016 election.
"The congressional map for potentially competitive races has just gotten a whole hell of a lot bigger," said Mike Mikus, a western Pennsylvania-based Democratic consultant. "If I'm the Republicans, I'm terrified. If I'm the Democrats, I'm very energized looking toward November."
The Democratic Congressional Campaign Committee claimed victory Tuesday night before a winner had been declared. Ben Ray Luján, the chair of the group, said the results should "terrify Republicans" who spent millions to defeat Lamb.
"We have incredible candidates with deep records of service running deep into the map this year, and it's clear that these Republican attacks are not going to stick," he said.
Pennsylvania's 18th Congressional District opened up in October when eight-term incumbent Republican Tim Murphy resigned under pressure. Murphy, who publicly opposed abortion rights, was caught encouraging a woman with whom he was having an extramarital affair to get an abortion during a pregnancy scare.
Murphy enjoyed a virtually unshakable hold on the southwestern Pennsylvania district, running unopposed in the two previous elections. The district, which was heavily gerrymandered to favor Republicans, covers a vast swath of southwestern Pennsylvania.
Doug Heye, a former spokesman for the Republican National Committee, said Tuesday's result served as a warning sign for the GOP come November even if Saccone retains the seat.
"Regardless of who ultimately wins, this is not a good result for the GOP. Look for more retirements to come," Heye tweeted, referring to the growing number of Republican lawmakers headed for the exits.