When I was a 15-year-old sophomore at Broadneck Senior High School, I had the luck of being seated next to a senior named Bryan in my environmental science class.
He played football and went on to become a lacrosse star at Georgetown. Though blond and popular ― not the brooding punk of my then-dreams ― I developed a crush on him anyway. We skipped lunch together and listened to John Cougar Mellencamp and Pink Floyd in his white Volvo in the parking lot of 7-Eleven, while he confided in me about his college fears and girl trouble. His picture was in the paper that football season. I cut out the rectangle around his face and carried it in my wallet for eight years, together with a note he wrote me when he graduated. I only stopped when I accidentally left that wallet in Prospect Park my first summer in New York on a very hot day, sitting under a tree reading, trying not to look lonely.
We did a lot of that — cutting and saving photos and articles from our little local paper, The Capital.
Every morning, The Washington Post was delivered to my house, and every evening, The Capital. When I turned 16 and inherited our aging Chevy Blazer, one of my household jobs was picking up the mail and paper on my way back home from field hockey practice, or Key Club, or eating Meximelts at Taco Bell — however I was wasting time after school.
I can't lie: I wanted to be in The Capital, too.
Annapolis was an athletic town. The majority of my friends played some kind of sport, and pretty much all of us cared about them: soccer and football in the fall; basketball in the winter; lacrosse in the spring. Teams played on Tuesdays and Fridays. The Capital was there to cover all of it.
When there was a particularly good game, a match between rivals or an upset, you'd get more than a stats readout: You'd get a feature. A teen athlete, after a particular moment of glory, might even get the cover of the sports section. And every player, regardless of skill, could depend on finding their picture with position, age, year and school at the beginning of every season.
Though I was hardly a jock, I had an improbably decent career as a goalie for the Broadneck field hockey team. I had a good save average by virtue of how bad the rest of the team was, meaning there were A LOT of shots on goal and a lot of opportunities for me to block the ball with my giant glove. I secretly hoped it would be enough to get me The Capital's Athlete of the Week spot. It did not, but there was a line at one point about my extreme effort to block the shots on goal that came at me.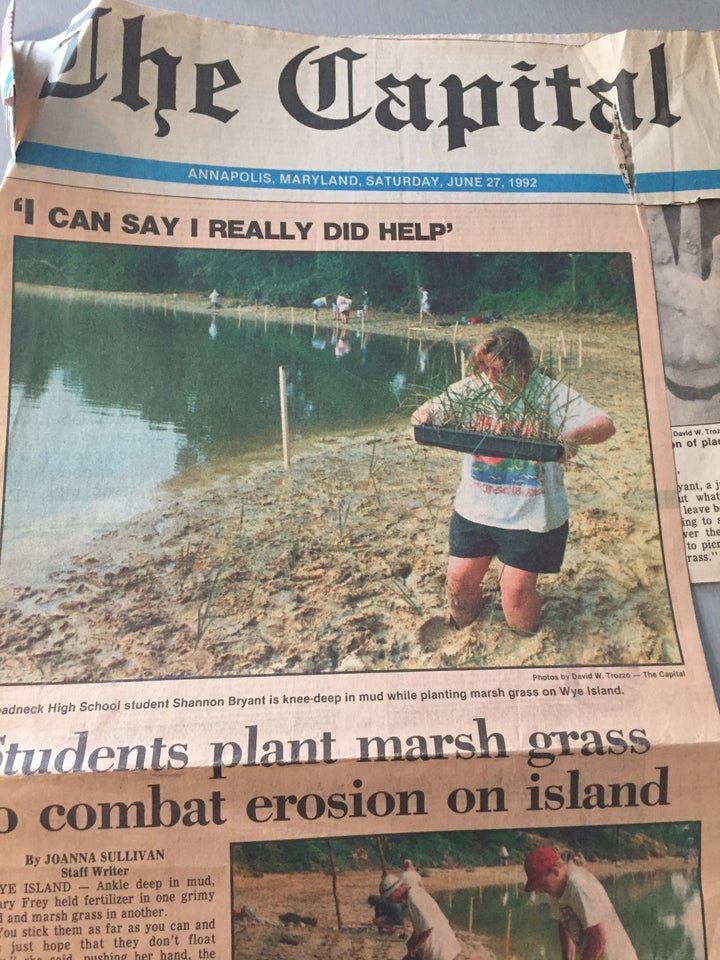 It didn't matter, because what I really wanted was the coveted "Teen of the Week" spotlight. I'm not saying that with a wink. I read that feature religiously, genuinely curious about what other kids my age were doing and especially what good things they were doing. Service was part of my life. I spent summers building houses with my Presbyterian youth group every summer, and cleaned up yards for old people in the fall. I was never entrepreneurial in my efforts to help people, but I was impressed by the featured kids who were. It was a big deal to get that honor.
On Thursday afternoon, as the horrible shooting at The Capital's building was unfolding, I happened to be sitting in a conference room with a group of teenagers we'd gathered at HuffPost as a focus group. We wanted to hear about their lives and learn how to better cover them as journalists. We talked about apps and phones, SATs and sports, but then one of our editors asked: If there's one thing you wish the media knew about you, what would it be?
One rising senior in high school piped up: "I wish people knew about the good things we do."
Another: "Yeah, that all the stories about teenagers didn't make us look stupid like, 'Oh, they were looking at their phone and got hit by a car.'"
Though I never made Teen of the Week, I was featured in the paper twice. The first time, I posed alongside my friends Elisa and Alison for a feature called "They're All Talk," about teens talking on the phone (landlines!). Two days later, to both my delight and embarrassment, we were splashed across the Family Living section. My high school boyfriend, Paul, cut it out and kept it in the glove compartment of his 4Runner and would break it out on occasion when he thought I was full of shit: "You're all talk!" he'd say, waving the newspaper at me.
The next time, lost to my memory until Thursday's events, I'd gone camping with friends under the guise of the "Environmental Action Club" at Broadneck. In cramped tents, we'd spent a week stuffing marsh grass into holes in the sand (to stop erosion) while listening to Jane's Addiction, building bat boxes, and grilling steaks and heating cans of beans over a stove.
The Capital put us on the front page. The front page! A bunch of 16-year-olds doing something good. I'm not in the picture, but I am in the lede. Another image shows a girl I knew named Kristen, holding up her sandy, dirty hands for the camera, with a wide, open smile across her face. I am so glad my mom cut this out and kept it for me.
The Capital may have offered some soft coverage ― Area Girls Talk On Telephone ― but it understood the value of treating kids like the interesting, all-potential people they are. We don't cut pictures out of the paper anymore, but there is a timeless earnestness to the coverage of a community, to highlighting the good things a community can do. It's easy to forget that this coverage can be just as important to the people who read our work as describing all the ways our world is falling apart. We should do more of it.